2018 HUMBER BRIDGE HALF MARATHON AND SOAPBOX DERBY
Over £50,000 raised to support communities across Hull, East Yorkshire and further afield at this year's Humber Bridge Half Marathon and Soapbox Derby.
Smile is a lead organiser of the Humber Half – the only half marathon to go over the Humber Bridge – and the Soapbox Derby, which sees a series of colourful carts racing down the slip road of the Humber Bridge into the top carpark.
The Humber Bridge Half Marathon was held on the June 24th and attracted over 2300 runners – a record number. Runners came from all over the UK and overseas, including: Poland, Norway, the Netherlands and Australia.
Smile has worked in partnership with the Rotary Club of Hull on the Humber Bridge Half Marathon for the past five years, and is delighted to support such an established local event. Smile became involved to help raise the profile of the event, and encourage more runners to sign up, which increases the Rotary Club of Hull's charitable donation to local good causes.
Smile was also instrumental in bringing Hudgell Solicitors on board as main event sponsor, and the consequential brand enhancement has elevated the status of the event on both a local and national basis. One runner, from this year's race, was lucky enough to win an all expenses paid trip to Estonia to take part in the Tallin half marathon for themselves and a guest courtesy of Hudgell Solicitors.
This fantastic event would not be possible without excellent community teamwork and the support of local businesses, including headline sponsor, Hudgell Solicitors and additional sponsor Sargent Electrical. Runners were also kept hydrated on the course with water from Nisa.
If you would like to sign up for next year's Humber Bridge Half Marathon, please keep an eye on the Humber Bridge Half Marathon's website, where online entries will be opening shortly.
**
A mixture of corporate, individual and charity teams took part in the Soapbox Derby on June 30th: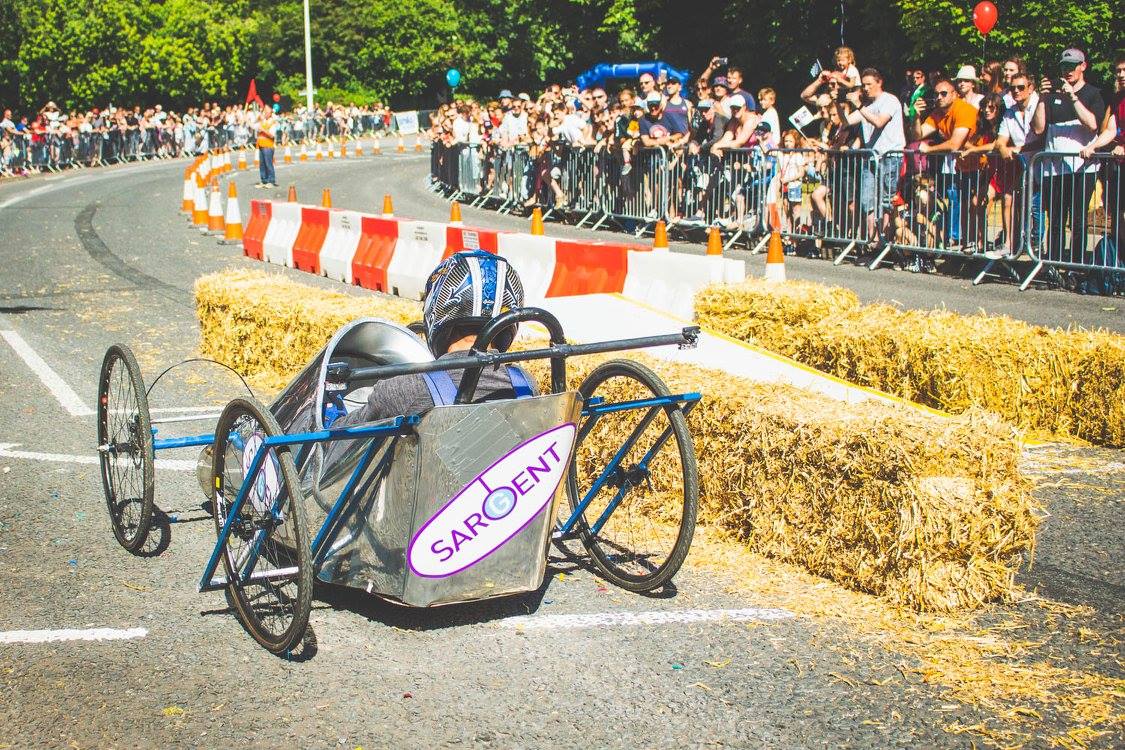 Local families enjoyed not only the thrills and spills of the racing, but a bite to eat from food vendors, and a wizz around the skateboard park.
The popular local Soapbox Derby is run by Smile and Hessle Town Council in association with the Humber Bridge Board. The event would not be possible without the support of sponsors Sargent Electrical and Specsavers Hessle.
Competition was tough, with with some fantastic entries and an incredible effort from all teams! Ultimately, Tad 1 held onto the crown they've won for the last few years – they're definitely the ones to beat. Breakdown of prize winners was as follows:
Fastest Corporate: ABP
Overall Winner: Tad 1
Best Novelty/Themed: Hearing Dogs for the Deaf
Fastest Junior: Bradford College
Fastest Run of the Day: Tad 1
For details about taking part next year, please email: lc@heysmilefoundation.org
All photos from 2018 and previous years are on the Soapbox Derby Facebook page.